Between the Dodge Ram, Ford F-150 and Chevy Silverado, American trucks really are the pinnacle of heavy-duty hauling.
Year after year, it seems these three fight constantly to sell the most or win the most awards.  This heavy-duty (truck joke) competition means that their products get better and better for consumers.
In the next couple of years, we should see at least a couple of these trucks get a healthy redesign.
As for the Dodge Ram, the current model has been on sale for a number of years.  FCA plans on having the new 2018 Ram 1500 actually overlap production of the current model.  That might sound weird, but that opens the doors for some extra sales.
If you remember when FCA ran production of the redesigned Pacifica and the old styled Grand Caravan, this cross over makes a bit more historical sense.
The 2018 Ram 1500 will continue to use a steel construction unlike a small industry push toward aluminum.  This allows the 2018 Ram 1500 to be more heavily designed, so FCA can add in more spice to the design.
Sources point to the new 2018 Ram 1500 being a more evolution than a complete redesign.  Whichever avenue they take, Ram's have a history of being some mean looking trucks.
The Exterior-2018 Ram 1500:
As I stated, the new 2018 Ram 1500 will be a more evolutionary design, over revolutionary.
As we've seen from the growth of the Ram over the years, the headlights will be more integrated into the grille.  The nose will still remain big and imposing, with a new and taller hood.
Speaking of the grille, we may see the cross hair design from years past come back on the 2018 Ram 1500.
We could see some more ventilation space in the hood, making a more muscular appearance.
The head lights will also be a bit more pointed down with some new surrounding LED's.  If the spy shots are to be any indication, the new front end for the 2018 Ram 1500 will be a snarly looking thing.
We could see a new tail light design as well.  This new design looks a bit too much like the GMC Sierra, so I do honestly hope they change that up a bit.
Overall, the new exterior will be comprised of more sharp angles and muscles.  That is a very fitting new line of cues for a truck, isn't it?  I'd definitely want my truck to look like a bicep on wheels.
One thing I do hope they keep in the current Ram 1500 are those big, chrome dual exhaust tips.  I do hope they keep those for the redesigned 2018 Ram 1500, because this is one truck that wears dual's very well.
There is also speculation that the truck's bed will be slightly longer as well in all trims.  Something I'm sure people who tow and carry a lot of stuff will appreciate.
The Interior-2018 Ram 1500: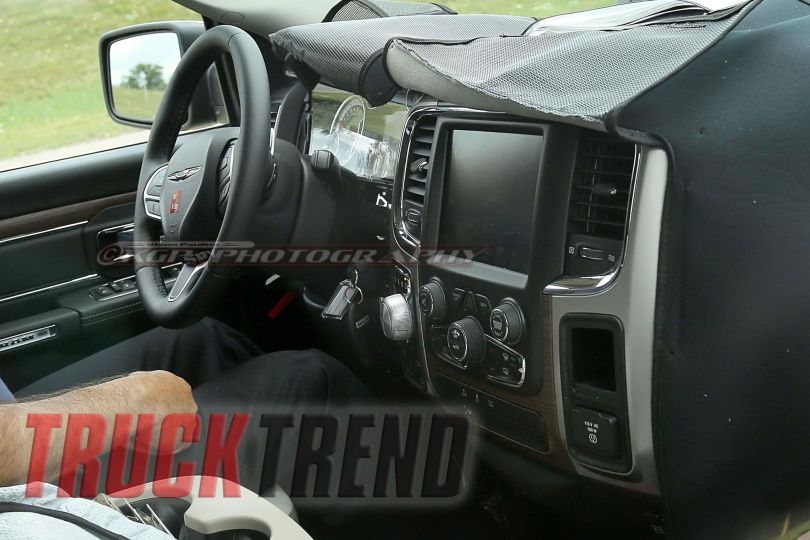 The interior for the 2018 Ram 1500 looks like it'll be much the same as the current Ram 1500 according to spy shots.
Looking at the interior on a broad scale, the dashboard is a nice navigation screen, Chrysler-esque buttons and knobs to control the climate and a strong look.
Sharp angles and pure functionality is what the interior screams.  However, there's a big elephant in the room.
You'll notice that the gear selection is done with a turn-style knob located next to the…volume knob?
This system has gotten plenty of criticism in Chrysler's cars, and it makes even LESS sense in the 2018 Ram 1500.  In a primal kind of way, I can't think of a less manly way to change gears than a little turn-able knob.  In a big truck, I want to pull something obnoxiously heavy to shift.
That might be a personal thing, but you see what I mean.  I know that there are options to have the classic stalk from the steering wheel, so please get that.
2018's Ram 1500 may get a completely different interior, or a slight reworking.  At this point, your guess is as good as mine!
The Performance-2018 Ram 1500:
The abilities and performance in a truck is a true make-or-break for any new truck that comes out.  Luckily, the Ram 1500 has had a good history of being capable to do pretty much anything.
While the main construction will be steel, we should see some lighter materials accompany it to help fuel economy and towing.
As for transmissions, we will most likely see six speed automatic set ups for entry level trucks, and eight speed automatics for top-of-the-line 2018 Ram 1500's.
As for engine options, we will see a return of the Pentastar 3.6 L V6 for entry models.  This 3.6 L V6 will have a couple improvements like direct injection, so we should see around 320 horsepower.
The 5.7 L V8 Hemi will also make a return with a possible reworking.  A turbocharger is rumored, but not confirmed.
Diesel seems to be on the way as well.  While there is no information about what exactly we could see, there is speculation about the Diesel Ram being able to tow upwards of 9,500 pounds.
Regardless of how you spin it, the 2018 Ram 1500 will be a serious performer.
The Specs:
| | |
| --- | --- |
| Vehicle Type: | Full size Truck |
| Power Plant: | 3.6 L V6 / 5.7 L V8  |
| Gearbox: | 6 speed auto/8 speed automatic |
| Power: | 310 – 400 HP |
| MPG: | Not Available |
| Torque: | Not Available |
| Length: | Not Available |
| Width: | Not Available |
| Height: | Not Available |
| Wheelbase: | Not Available |
| Top Speed: | Not Available |
| Seating: | 5 Adults |
| 0-60 MPH (0-120 KPH): | Not Available |
| Base Price: | Not Available |
Sum It Up:
While not much is really known (clearly) about the 2018 Ram 1500, we can have a pretty good idea of what will come.
Simply because the Ram is being redesigned, we should see the competitors take a similar course of action.
Look for a release date for the 2018 Ram 1500 in 2018.