Honda is trying to do something impressive.  They're attempting to make their whole line up edgy and appeal to a younger, sporty audience.
This is not an easy task to do, as we've seen this from a number of manufactures.  Even Oldsmobile tried to tell us they were cool and edgy.  Didn't work.
Cadillac is going through some reverse puberty as well.  It seems to be helping, as they offer more cutting edge technology and styling than ever before.
The industry is moving forward by moving backwards (age wise…I know that doesn't really make sense but whatever).  This is cool, and makes for some interesting examples.
Honda is part of this big revolution to make more spastic designs, and we see this most with the Civic Si, and Civic Type R.  Apparently, the 2018 Honda Accord will be next.
Motorsport:
Honda has been around the motorsport world for quite some time now, and you'd expect a company as big and experienced as Honda to really have a strong footing.  Well, famously that is not the case.
Even if you're not too familiar with F1, you might know a race car driver by the name of Fernando Alonso.  He's been around for quite some time.
He raced with the power-duo of Honda and McLaren.  You'd expect that partnership to be great and win some titles, but again that's not the case.
Honda and McLaren's cars kept breaking in famous races and it was so bad that Alonso started racing Indy cars when he wasn't racing F1.  Presumably to make up for the money he was losing in F1 due to a car who's Honda engine kept breaking on him.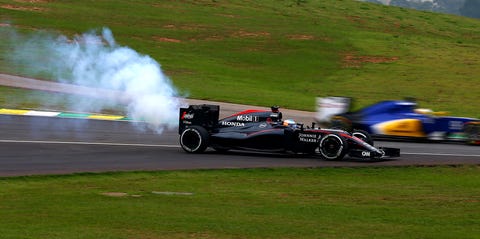 Well unfortunately, Fernando seems to be a bit cursed at this point.
Recently at the 101'st Indy 500 in Indianapolis, Alonso was met with the same issues he's seen in Formula 1.
If you know anything about Indy now, you might know that Indy cars use (mostly) Honda engines.  Do you see it coming yet?
Yup, the Honda powered Indy car that Fernando Alonso was driving broke down on lap 179 out of 200.
I'm not sure how much longer Honda will keep up, since McLaren dumped Honda from their partnership.  Honda is apparently partnering with Sauber for next F1 season, so we'll see how that goes.
The Accord:
Today, we'll be discussing a car much toned down from any Indy or let alone F1 car.  We'll be discussing the 2018 Honda Accord.
As I started saying before, Honda is moving to make their cars more attractive to younger audiences.  Honda's are getting sharper, meaner and more edgy.
The Honda Accord has always been a pretty plain sedan, but things are changing.  Even last generations model was a very sharp sedan that had a bit of luxury to it's character.  I respected that car.
The 2018 Honda Accord will feature completely new body work, which includes a dramatic redesign.  On top of the already crazy redesign, Honda is adding in some rumors of a possible coupe.
The Accord then, is getting more exciting than ever.  Which is something I never thought I would say, honestly.  But I'm happy Honda is giving me a reason to say so.
The Specs-2018 Honda Accord:

| | |
| --- | --- |
| Vehicle Type: | Midsize Sedan / Coupe |
| Powertrain: | 2.4L 4 cyl , 2.0L H , 3.5L V6 (Est) |
| Gearbox: | 6-speed manual, 6-speed automatic (est.) |
| Power: | 187 – 280 HP (est.) |
| MPG: | Up to 32 Highway, 25 City (P) 49 Highway, 37 City (H) (est.) |
| Torque: | 170 – 300 Lb-Ft. (est.) |
| Length: | 190 – 193 Inches (4.82 – 4.90 Meters) (est.) |
| Width: | 73 Inches (1.85 Meters) (est.) |
| Height: | 58 Inches (1.47 Meters) (est.) |
| Top Speed: | 140 MPH (225 KPH) (est.) |
| Seating: | 5 |
| Wheelbase: | 107 – 109 Inches (2.71 – 2.76 Meters) (est.) |
| 0-60 MPH (0-120 KPH): | 8 – 6.5 seconds (est.) |
| Base Price: | $25,000 (est.) |
The Exterior-2018 Honda Accord: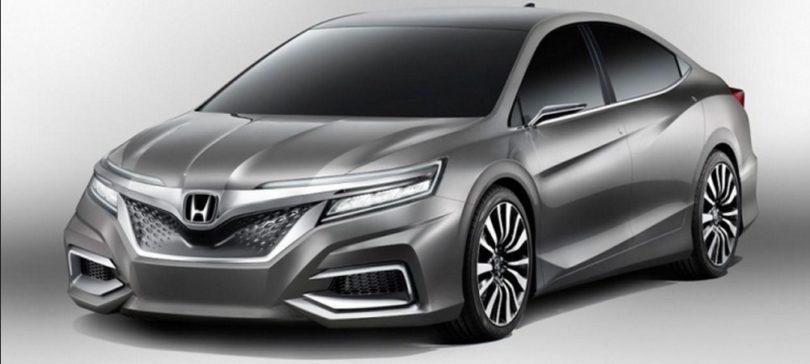 As I said, the Accord, and really every Honda has been a boring econobox for years.  There have been some clear exceptions, but for the most part a Honda is a Honda.
Honda decided that they needed to further their efforts toward a younger audience, which is all fine.
In the spirit of things, the 2018 Honda Accord just looks insane, and I like it.  It is actually hard to follow one like through the cars design.  There's a lot going on.  I'm not sure what the Honda designers were thinking, but it seems like they had some serious fun on the Accord.
Up front, the Honda logo is standing large and proud so you know with 100% certainty that it is a Honda.  Just behind the badge is a very complex grille and beams across the grille that spear into the headlights.
The front of the 2018 Honda Accord is just on the edge of being way too complicated as a sedan for me.  There are a lot of traditional elements through all the craziness interestingly.
These include the grille, air ducts on the lower end of the grille, sharp headlights and a badge.  Things are standard but in an extreme way.
I always liked how the Honda Accord has always had a sporty nature to itself, and this new car and design takes that to a whole new level.  Especially if the rumors are true about there being a Honda Accord Coupe with this body style.
We've seen it done on the current (and very cool) Civic, but the Accord would be again a whole new level.
from the side, the new Honda Accord is a continuation of the side view with the aggressive slashes and angles. Even though it is much less insane on the side, the character of the car continues to be an ambitious one.
The rear end of the 2018 Honda Accord is a lot less of a show than whats we see on the front.  It is an interesting sight though.
Dual exhaust outlets are very fitting here, and the tail lights are more slopey than sharp, unlike the headlights.
When you look at the rear end, you'll see a future tuner.  Most Japanese cars go through some sort of phase where younger people tune or modify them to an obsessive extent, and the 2018 Honda Accord has just that appeal.
When the new Accord hits pre-owned lots down the road, I can see young guys picking them up and tacking on massive (unnecessary) rear wings or body kits.
The new Accord is for the younger buyers who want nothing more than to be flashy.  And Honda delivers.
Honda continues the Accords personality of having more of a coupe like roof line.  I love the look, but I do hope that Honda gets the interior space right.
Overall, I like the look of this concept.  It really takes Honda into a level which is fantastic.
The Interior-2018 Honda Accord:
Honda's interiors aren't really anything to get up in arms about.  Most of the time they just have a standard layout and in recent years, a gauge cluster ripped from a fighter jet.  Interesting.
The new Honda Civic has a strong case of every car in Honda's line up.  Aggressively styled and functionally laid out.
Plus, there is plenty of technology inside the Civic, and for an absolutely perfect price.  It makes it difficult to really justify paying more for a car. Honestly.
The interior of the new Honda Accord has not been released or even seen yet, since the new car is in concept phase still.
For now, we can only really look around at other Honda for now and draw some assumptions.
However, the inside of most cars in Honda's line up are not as extravagant looking as the new 2018 Honda Accord, so there is a bit of a disconnect.  One thing I know will make inside the Accord is the crazy fighter jet instrument cluster we see in every single Honda.
As for the 2018 Honda Accords interior, we should see plenty of cool gadgets on the inside to go with the crazy appeal of the car overall.
The current car utilizes an interesting set up of a dual screen infotainment system, which we see in many Acura's as well.  The system has had some criticism, as with most out of the ordinary systems.
Overall, we don't know much about the interior of the 2018 Honda Accord just yet.  It is in a strict testing phase right now, and more details should soon follow.
I do hope that they ditch the dual screen, as the technology isn't quite up to par and easy to use as the conventional button layout.  Buttons are always easier and more intuitive.  I have the same complaints with the Cadillac CUE system.
The Performance-2018 Honda Accord:
As with everything else right now for the 2018 Honda Accord, we have more speculation.
Based on the current model, we will probably see Honda's 2.4 L four cylinder engine for base models and the 3.5 L V6 engine for the more loaded models.
As for a hybrid option, we could see a 2.0 L four cylinder engine with a turbo charger and a couple electric motors and batteries to aid in its performance.
As for horsepower figures, Honda's V6 usually produces around 280 horsepower, and the maximum output we'll see from the four cylinder options is just under 200 which is abysmal for cars nowadays, especially sports coupes.
Apparently Honda is reworking their engines to produce more power and be more fuel efficient.  Which should mean that they will actually be competitive in today's market.
The Accord seems to be really taking itself seriously now and should have the punch to back it up.  I know it seems  a bit childish to demand horsepower and a higher figure, but if Honda makes the thing look the way it does, we need something strong.
Just look at all the heat the BRZ takes right now.  I love the way the Subaru BRZ looks, but it has a max output from the factory of 205 HP which is embarrassing.
It is not enough to look the part,  you have to actually play the part.
That is one thing that will drive me away from Honda every time.  I love the way they look, but that's it.  The last thing us young car lovers want it a weak car.
But there is a olive branch to extend, the fuel economy will apparently be fantastic.
According to some sources, the 2018 Honda Accord will feature upwards of 45 plus highway MPG on some models.  This is the delicate balance of power and reliability.  Honda always chooses reliability and economy over performance, and this is the classic example of that choice.
Plus, always going for furl economy and reliability on the road translates to not knowing what they're doing on the race track.  Every time Honda pushes the limits there, the car breaks.  So polar opposite.
Overall, we need more power.  That's all the car is missing.  The styling is there, the reliability is there, the economy is there, but the performance is not.  If you make a car look cool, make it cool to drive please.
Sum It Up: 
I do like the Honda Accord.  It is a perfect balance between cool styling and practicality, as it always has been.
Whenever Honda redesigns the sedan, it's got an uphill battle to fight since the Accord has been around for so long and has high standards for itself.
The 2018 Honda Accord seems to be a complete overhaul of the popular family sedan into a more intense scheme, and directed a particular taste.
The thing about that particular taste I mentioned is that those people like horsepower and performance.  No, that doesn't mean adding paddle shifters and calling it a day, that means real engineering.
There is no release date just yet for the 2018 Honda Accord, but there should be one soon.  On top of that, we should have info on the rumored coupe as well. Stay tuned.