Honda is an interesting car company, just like Nissan and Subaru are.  While all three companies make some very practical and vanilla cars and SUV's, they have a dark side.
Subaru makes the WRX STi, Nissan makes the GTR and 370 Z Nismo and Honda makes a number of crazy cars as well.
Some cars in Honda's crazy portfolio include the NSX, Civic Si and Civic Type R.  These new faces are coming in 2018, and they have a ton of hype behind them.
For years, the Honda Civic (in the U.S.A) has been the most basic commuter car for pretty much anyone.
For younger kids, the Civic Si offered a chance to have that Need-For-Speed nostalgia and performance while they whipped their Civic dangerously through traffic like idiots.
After years of begging and pleading, the US market is finally getting one of the most hyped up cars from Honda in years, the Civic Type R.
The new 2018 Honda Civic Type R promises to be one of the best cars on the road, and we believe it should live up to the high standards it has for itself.
Honda has made the baby Civic into a hardcore street racer in every single trim level.
The new body style for the Civic is a more aggressive, sleek and intense looking car than ever before.  It really looks like a performance car from all angles until you realize it's just a Civic.
Honestly, you'd be denying yourself if you said that the new Civic isn't a cool looking car.  People who don't think so are just old-fashioned, because the new Civic is very cool.  I sound like a 10 year old and I'm aware of that.
The Specs-2018 Honda Civic:
| | |
| --- | --- |
| Vehicle Type: | Hatchback / 5 Door / Sedan / Coupe |
| Powertrain: | 1.5 – 2.0L Turbo 4 cyl. |
| Gearbox: | 6-speed auto / 6-speed manual |
| Power: | 180 – 310 HP |
| MPG: | 35 Highway/25 City (est.) |
| Torque: | 295 Lb-Ft. |
| Length: | 173 Inches (4.39 Meters) (est.) |
| Width: | 81 Inches (2.06 Meters) (est.) |
| Height: | 58 Inches (1.46 Meters) (est.) |
| Top Speed: | 167 MPH (268 KPH) (est.) |
| Seating: | 5 (est.) |
| Wheelbase: | 102 Inches (2.59 Meters) (est.) |
| 0-60 MPH (0-120 KPH): | 8 – 5 Sec. (est.) |
| Base Price: | $19,000 (est) |
The new design of the Honda Civic really brings it into a interesting spot.  The slashing aggressiveness and cool LED lights are very anti-Civic.
Honda has this new way of doing things that mirrors what they do with other cars and even their luxury division, Acura here in America.
The eyes of every Honda are getting more slashy and squinted, and Honda is adding more aggressive air ducts anywhere they can fit them.
This means that the rather normal, every-day cars that Honda usually produces have to be redesigned.  We're seeing this with not only the Civic, but the Accord, Pilot, CRV, Odyssey and more.
Honda wants to capture a younger market with their whole line up rather than with just the Civic and its variants, which is a good thing.
The new 2018 Honda Civic may only have a 2.0 L turbo at best, but it packs some serious punch.
A Motorsport Note: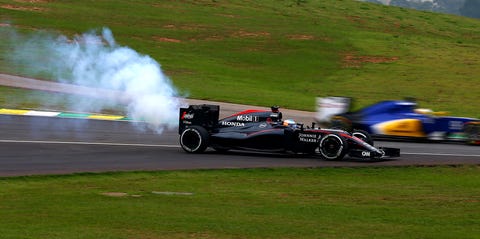 Even though Honda's motor sport division in Formula 1 and in Indy car could use some good mechanical love, their road cars are still second to none.
For years Honda's partnership with McLaren has been pretty sad.  The cars always had mechanical issues, especially at the hands of Fernando Alonso.
Even when Alonso raced in the Indy car series, the Honda driven car he raced in had an engine failure at lap 179 out of 200.
It's hard to believe a car company like Honda, who is known for their streetcars reliability and all that good stuff, can make motor sport cars that hardly last a series.
In the next couple of years, Honda will be teaming up with Sauber, and separating with McLaren.  A lot of McLaren fans are happy, and feel bad for Sauber.
The Exterior-2018 Honda Civic:
In the history of Honda Civics, we've gotten a casual looking daily commuter perfect for new drivers and those who just seek to go from point A to point B.  Nothing more or less.
We've been exposed to performance oriented versions of the car as well.  From the original and older models of the Civic Type R and the Civic Si.  Same general structure, but with more umph for the masses.
Over the years, the car has gotten more and more focused as a performance car.  Each and every generation made the Honda Civic into a car that Honda engineers spent more and more time on.
The current result lies in the 2018 Honda Civic.  The slashiest, most hardcore looking Civic ever.
Honda's new Civic makes me a bit sad honestly, since the Civic name is so commonly connected with a boring little car that you constantly need to pass on the highway.  That reputation does not do the new car justice.
The new 2018 Honda Civic features squinted, strong eyes with lovely LED accents that make the car look like a much more expensive as it comes at you.  I love it.
On the front end, you get massive front air ducts with small fog lights and even larger air ducts on the Si and the Type R models.
The whole fascia of the new Honda Civic is very low and assertive, not words I usually use to describe a Honda.
From the side, the coolest feature of the design is that you can't really distinguish between the coupe version, sedan or hatchback.   The way the car was designed, includes a razor sharp roof line front to back on every model.  This is something I can really appreciate.
The usual problem with sloped, coupe-like roof lines is that they usually cut into the passenger cell and thus, into the comfort of the passengers.  Usually making headroom completely absent.
In any case, it is clear Honda made a great effort to make the car look as athletic as possible, and it worked.
The rear end of the 2018 Honda Civic is much the same story.  You get similar elements of athleticism and dynamics as with any variant you get.  The hatch back doesn't look like a hatchback, and the coupe is striking.
Overall, the exterior design of the 2018 Honda Civic is awesome.  From a young man like myself, I love it. Plus, it's one of the few cars that can really pull off slime green with black rims.  Or am I just weird…
The Interior-2018 Honda Civic:
The inside of the Honda Civic has traditionally been like the exterior.  Mostly a plain and straight forward assembly.
The inside of Honda Civics usually get the classic ricer treatment with massive gauges so you can see when the vtec kicks in, and other GTR-esque amenities to make the Civic look more hard-core than it really is.
That's all fine and good if you're into that sort of thing, I won't say anything bad about someones car if they love it and put effort into it; As long as they don't try to say their Civic is the fastest or coolest car ever.
My favorite Ferrari is the 430 Scuderia, which a lot of people say is the ugliest Ferrari ever made.  I know that there are more beautiful Ferrari's and better performing ones, but I love it.
Anyway, Honda has made the Civic more and more updated as the generations go on, understandably.
The new 2018 Honda Civic features an interior that is both techy and stylish.  Even with a cheaper car and thus cheaper materials to work with, Honda created something very appealing.
The center tunnel is very easy to understand, with clearly labeled buttons and the electric parking brake where it should be.  The traditional spot makes it easy for anyone to get in and figure it out.
The gear selector is also easy to figure out, since it is conventional.  No reinventing the wheel here.  I can always appreciate that.
On the dashboard, the infotainment and air conditioning are also easy to figure out and use.  Honda's clean layout and easy to understand set up makes the Civic a good car on its own.
One thing I would change is the gauge cluster that looks like it is inspired by a fighter jet.  That sort of design and flamboyancy is completely passable in a Lamborghini, but it just doesn't look right in a Honda.
Honda's are more commuter cars, and that's not a bad thing.  But the gauge cluster just looks tacky.
Great Results with Cheap Materials:
Other than that, Honda did a fantastic job.  It is a real task to make a great looking and functioning interior while using cheaper materials for a passenger compact car.
For years, these kinds of cars have been the butt end of every car joke.  The interiors of cheap cars reflected just that: They are cheap.
Dumb plastic, dumb cloth and cheap buttons used to be the makeup of cheap car interiors, and still kind of is.
But car companies like Honda and Ford make the interior of the Civic and Fiesta into great lookers, even with a tighter budget.  Good stuff.  We're really getting somewhere.
The Performance-2018 Honda Civic:
Civic's aren't the most impressive cars out there as far as performance goes from the factory.  It's just the nature of a small car like the Civic to not be fast; Nothing wrong with that.
The 2018 Honda Civic comes standard with a 1.5 L four cylinder engine, with a base output of around 180 horsepower.  For a car of its size, this is perfect.  Plus, fuel economy is fantastic.
Things get more exciting when you move up the line of Civic's and get to the Si trim and the incredible new 2018 Honda Civic Type R.
The base horsepower for the Si comes in around 210 horses, and the Type R gets you to just above 300 which is just amazing.
All Civic's are front wheel drive, and the effort to make all the components strong enough to handle the crazy amount of power.  It is really quite impressive.
While the performance versions only offer a manual transmission (I'm kind of behind that), the normal versions can get the automatic.
Even while most performance versions of hot hatches like the VW Golf R, Ford Focus RS and others offer all wheel drive platforms, Honda has stuck with FWD.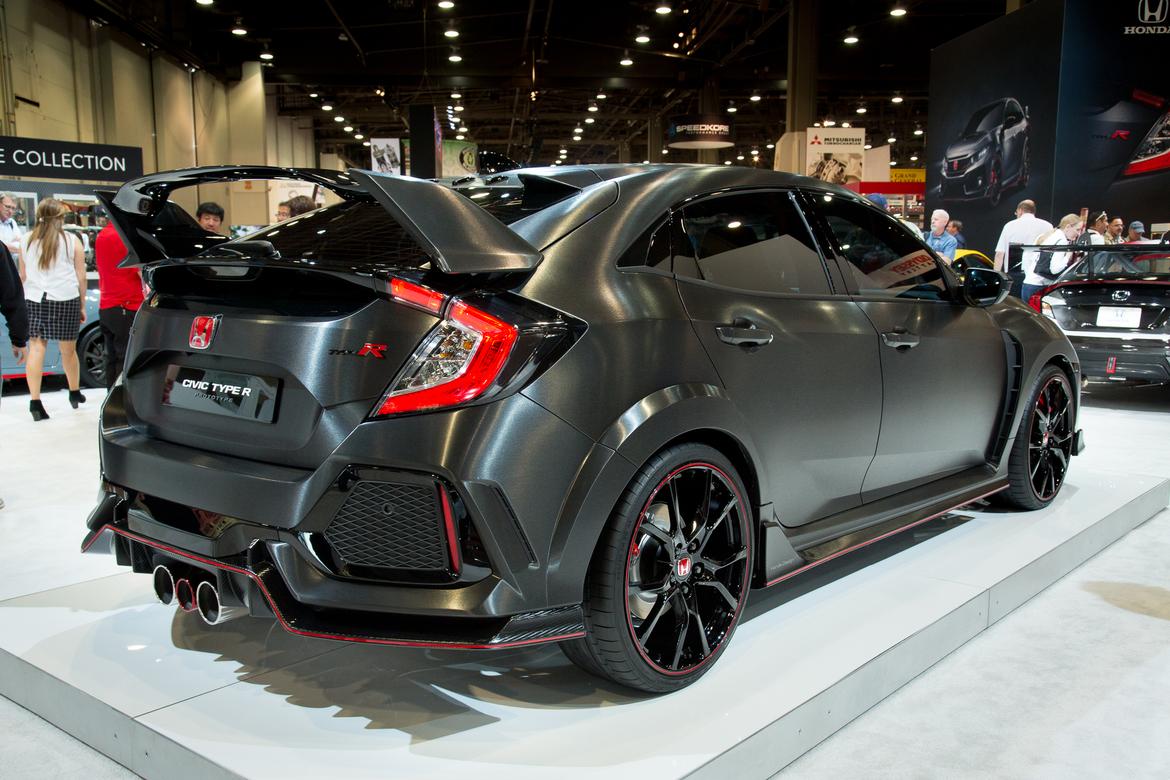 This is ambitious, but Honda knows what they're doing (outside of Motorsport).
Apparently the Type R won't be a very livable car, which is a good thing.  The new Type R will be strictly a weapon on a track.  I appreciate their decision, because the car needs to know what it is made for, and stick to it.
Sum It Up:
The 2018 Honda Civic is a great looking car through and through.  You're more than welcome to disagree, but I think Honda did a fantastic job with the car to attract younger buyers with a great looking sedan, coupe and hatch.
The Type R will be an absolute weapon, but rare to see and get your hands on.  The Si will serve as a perfect medium in between the two, so if you want power out of your Civic grab the Si. Unless you're an embarrassment like me and only know how to drive automatic.
The 2018 Honda Civic will be released in late 2017, and the Si and Type R will follow shortly after.