Special edition cars usually bring a few examples to my mind as I'm sure they do with you.
For example, I would usually think of the Porsche 918 Spyder, Lamborghini Centenario Roadster, Ferrari LaFerrari Aperta (a lot of Ferrari's for that matter), McLaren P1, and even that one Jeep Wrangler for Call of Duty.
Special edition cars have a special place in this world, and they are always the most prestigious or most expensive of the lot.
This makes perfect sense in a lot of cases.  Usually special edition cars are made for a limited run making them even more rare.
And of course, there are manufactures like Chevy (not the only offender) who use this special edition mentality to swoon in more buyers and try to sell relatively normal cars for inflated prices because "they're special!".
So in the grand scheme of things, you can either have a fake special edition car that is most likely offered in some "special" color or something and buy it for a dumb premium, or you can have a true special edition machine.  Ford GT, LaFerrari Aperta, Pagani Zonda 760, Vanquish Zagato, there's a ton of them.
As things go, these special edition cars are astronomically more expensive than the standard car they're largely based on.
But given how easy it is to just pin the rare name on a car and sell it for twice as much money, there are a few duds out there.
So let's gather around and laugh at these ridiculous examples of special edition cars!
Porsche 911 Turbo S 918 Spyder Edition:
So I found out Porsche made a 2012 911 Turbo S to commemorate the 2015 Porsche 918 Spyder.
If you ordered an $845,000 Porsche 918 Spyder, you also got the option to order a matching 911 Turbo S. No it wasn't a free option, the car costed $160,000 (roughly) new.  You could either have it in coupe or cabriolet form.
This was a 2012 model, so owners who ordered the 918 and wanted the 911 along with it, had the 911 for three years while they waited for their matching 918 Spyder.
Autoblog points to this being a cool way of saying "I'm waiting for my $1 million hypercar while I drive this"  which seems like a substantial way to shut everyone up.
Even more astonishingly, it seems like almost every 918 customer actually ordered the 911 with it.  To me and you, that sounds insane.
But, if you have money for an $845,000 car I guess you have enough for a cute little matching…toy.
I've heard of car makers offering customers watches, clothes and such, just not a matching car…For $160k more.
Jeremy Scott Smart ForTwo:
Jeremy Scott likes to put wings on shoes.  But apparently he also likes to do the same things to Smart cars and I can't imagine why this happened.
He put wings on a Smart ForTwo.  What is happening to the world.
I took a visit to the Smart website to see what they said, and they obviously defended the creation.  Stating that it's: "High fashion meets the futures concept of mobility".  I'm serious.
Second of all, they also called it a "Match made in heaven".  I'm actually laughing while typing this.
"The wings light up like igniting rockets to form avant-garde rear lights."  I'm taking this directly from the website.  I have no idea what the person who wrote this got paid for it, but they need a raise.
"For me, wings mean freedom, a sense of weightlessness. Because of this, I definitely wanted to have them for the smart electric drive in order to convey the way it frees the environment of noxious emissions and symbolizes the new lightness of mobility" – Jeremy Scott on the Smart ForJeremy.
I actually like high fashion and it is a bit of an issue for me, but there are certain things I cannot explain, and this is most definitely one of them.  It's literally a Smart car with wings.
They even put diamond-stitched quilted leather on the interior in a bright white color.
This has been the most fun I've ever had talking about a Smart car.
Toyota Corolla Altis ESport Nürburgring Edition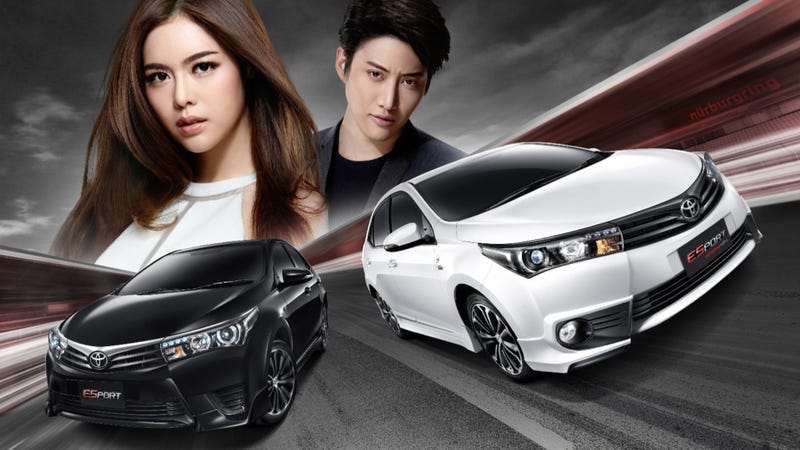 There are so many issues I have with this car I don't know where to begin.
Toyota made this…thing to celebrate a seventh place finish at the 'ring.  Do you need anything else?
Corolla Altis apparently is a popular car over in Southeast Asia, and they must have felt the need to pump out more sales of the car by making probably the single most pointless car in the history of ever.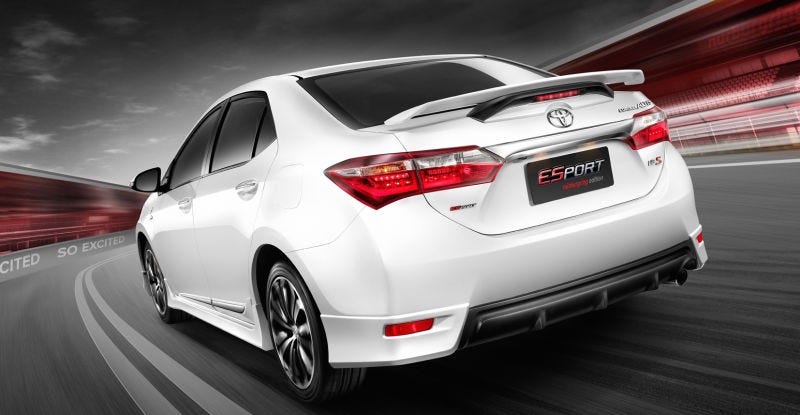 This special edition gives you the usual suspects: a black grille, spoilers, LED lights, red seat trim (a must) and of course new suspension.
They put a bunch of stickers of the track all over the thing to and I'm getting a bit nauseous.  It's like Chevy didn't do a good enough (bad enough) job of making car people look stupid and Toyota had to one-up them.
Maybe this is worse.
Fiat 500 Abarth 695 Tributo Ferrari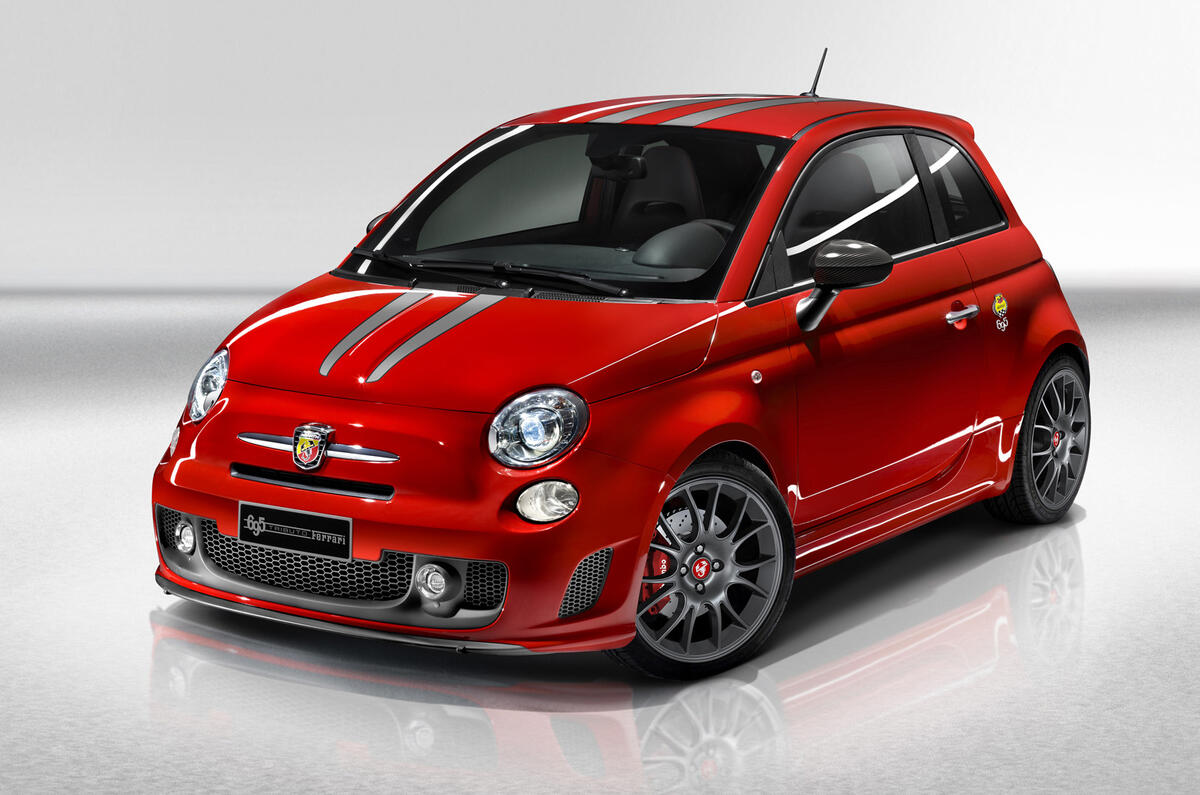 I just don't understand this car.  The 500 Abarth is a fantastic and fun little car, but Ferrari badging?  A Fiat car that is a tribute to Ferrari? …What?
It sounds great, looks great, drives great and is great.  But what is with the name?  The Fiat 500 Abarth 695 Tributo Ferrari *inhale* is pretty much on the same level as the 911 918 Spyder Turbo S thing from earlier.
They even made a Maserati edition at one point.
And the best part?  The baby Ferrari Fiat thing is $70,000.  Enjoy.
Fiat Kung-Fu Panda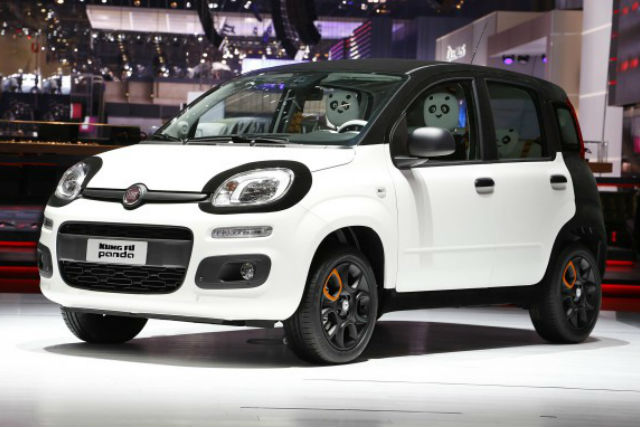 When I first heard about the Fiat Panda years ago, I knew it was only a matter of time before this happened.  And I'm not disappointed.
This was an obvious gag for the movie.  But, there was some goodness that came out of it.
Fiat actually auctioned off the Fiat Panda Kung Fu Panda Panda to a Panda conservation charity to help save the Pandas while promoting Kung Fu Panda with a Panda styled Panda.
I saw Car and Driver do it first, so I wanted to try.
Final Thoughts:
I know I missed a ton of Eddie Bauer and Gucci editions along with the Transformers and every other cash-grab a car manufacture thought of, but you get my drift.
I know of at least five people who had the Eddie Bauer Expedition years ago and I even struggled to find anything special about it back then.
Special edition cars don't work all of the time.  Most of the time they (unfortunately) do, but as soon as Chevy did that Warner Bros. van, I think car makers started to wake up…slightly (until Toyota did the Nurburgring thing).
Let me know if I happened to miss some ridiculous creation.  I'm always up for a good laugh!
To end things, here's a list of actually good special edition cars: