I admittedly haven't heard of Alpine until fairly recently which I'm upset about.  Mainly because they've developed very good cars.  I blame the fact I live in the United States.
Anyway, how often do you hear of a new or under-the-radar manufacture (for most people) come up and say that they're going to challenge the big boys?  Most of the makes I'm talking about happen to die out within a couple years.  But there are some exceptions.
Pagani and Koenigsegg:
If you know me, you'll know I absolutely adore Pagani.  Everything they do and make is gold to me so just bear that in mind.
Pagani and Koenigsegg both hold the same place in the world of cars for going up against some of the most established brands ever.  Even Lamborghini had this charm.
They came into this world with similar tasks.  Going up against the best.
This is a place where so many brands before them have purely failed at.  Time and time again companies get the money, but can't get the car right and they fade out of existence.
Even Lotus had its try at the giants.  The Lotus Evora came out and attempted a big swing at the great Porsche 911.  Nowadays, the Evora backed off a bit and is still a great car, but it isn't a 911 killer.
This brings me pretty much directly to the Alpine A110.
Alpine is aiming at the Porsche Cayman for the A110.  Like, very directly.
The basic premise of the Alpine A110 is a lightweight sports car to rival the 718 Porsche Cayman on the track and be a comfortable every day driver.
As always, this is a bold claim to make.  But I imagine Alpine knows that.
The Alpine A110: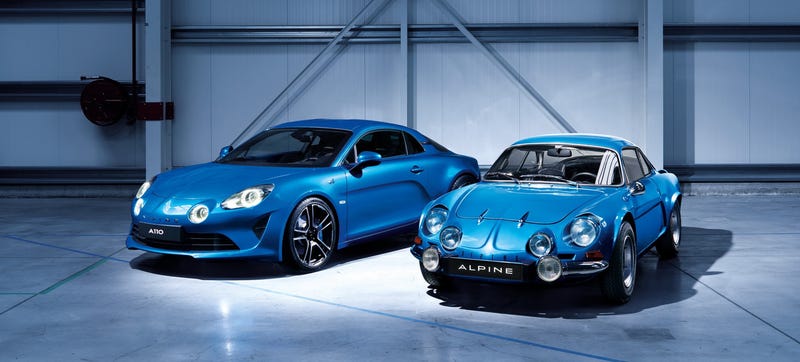 The Alpine A110 is due for launch in October, but we can look at what has come so far and see if we can tell the future.
Alpine has been testing customer taste since 2012 for the car.  They found there was a desire for a car that was great on track and could be used as an every day cruiser.  A type of versatile sports car.
All sorts of engineering aspects are in place to make sure the car can be adjusted as it goes through production.  Double wishbone suspension is at the front and back of the car, versus the less-adjustable struts in the 718 Cayman.
Further, you can help struts get better grip by fitting anti-roll bars but it would hinder the ride quality.  Which of course is not what Alpine wants.  They want a smooth rider in the streets.
Featuring double wishbones on both the front and back of the car allows it to fight against body roll without stiffening anti-roll bars.
The A110 does feature small and hollow roll bars to aid with roll, but they don't inhibit ride quality.  While struts would actually enable the car to have a larger storage capacity since they take up less space, Alpine is going for the quality of the drive.  Which I like.
For the A110, weight is also kept to a minimal 2,300 or so pounds which is always a good formula to follow.  With those underpinnings, the rest of the car should be a strong contender.  Good body control with minimal weight.
According to Autocar's piece, The car is much more savage than it looks.
The car is great in a straight line and its dual-clutch transmission is quick-witted. There is also a Track ESC mode which allows some slip of the rear tires which is great to hear.  The system can also be switched off completely which helps it hold long drifts better.
It is important to note that the whole ride along in the Alpine A110 from Autocar was from the passenger seat, as the car is still very developmental.
On Paper:
As I said before, the Alpine A110 will weight about 2,300-2,400 pounds which is perfect for what it wants to be.
Also, the car will have 252 horsepower which is perfect, and it sounds very much like the awesome Alfa Romeo 4C will have some actual competition.
The 1.8 L four cylinder turbo charged engine will be mid-mounted and also produce 236 pound feet of torque to its 252 horsepower.
And just like the Alfa Romeo 4C, the car will only come in a paddle-shifted automatic.  This will be done with a seven speed dual-clutch.
A lot of people are wishing for a manual, but I do like the auto transmission choice.  I do have to say that a manual transmission option would be good though.  The A110 seems like a car that should have one.
As far as acceleration, you're looking at a zero to sixty time of just around 4.5 seconds which is proper 911 territory.  A base 911, but a 911 it is.
On paper, it has all the makings of a proper sports coupe.  Just a matter of time before actually driving it.
Styling:
Personally, I'm not crazy about the exterior of the Alpine A110.  But I understand it.
It has a lot to do with the original Alpine A110 which I think is much more lovely to look at.
That being said, the new Alpine A110 looks like a ton of fun.  It is athletic and composed and the rear end is very unique.  The French did a very good job on the machine.
The interior is largely finished as of right now, but if we know anything about the car industry that could change tomorrow. If the image below is any indication, we're in for something very nice.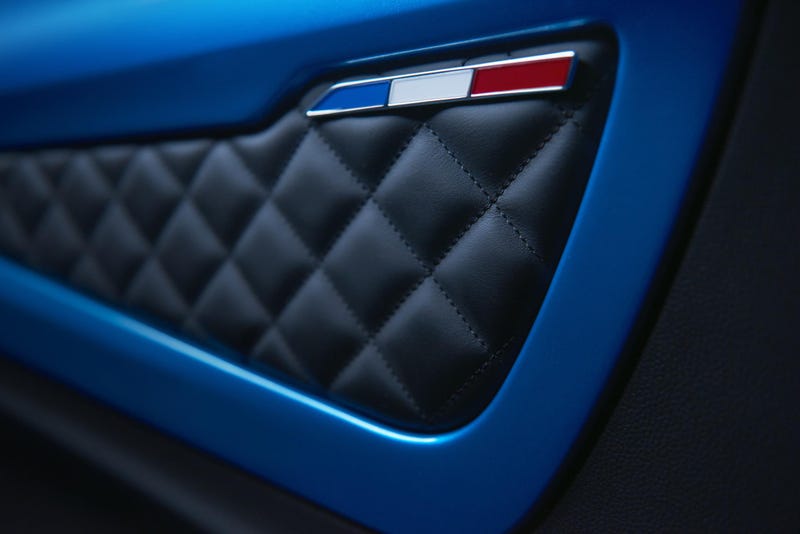 I love quilted leather.
Other shots of the interior show toggle switches for hazard lights, sport settings and door locks.  And we all know that toggle switches are the coolest things ever.
Overall, we're looking at a very lovely car.  A proper entry into the sports car market and a great return for Alpine.  Everything is just peachy.
For the United States:
You might have heard that this car may not actually make it to United States soil, but we all know it absolutely should.
Alpine's parent Renault has said the car will be sold on five continents which should include the US.  But, Alpine hasn't been on this side of the water since 1987 when they were partnered with AMC.
However, Renault are partnered with Nissan, who are very much on US soil.  We already see some of Renault's foot print on Infiniti cars.
According to Jalopnik, there are a few possibilities to be had:
One of course, would be to have Alpine as their own company as have the car sold here as a true Alpine A110.  I agree with Jalopnik here in that Alpine could join in Nissan dealers or Infiniti dealers like Scion did with Toyota.
Alfa Romeo did it with the 4C, so it could be a possibility.
A second option would be to re-badge the A110 as a Nissan.
It would be a perfect baby GT-R is the 370Z isn't.  I love the sound of that.
Jalopnik points to the car requiring some plastic surgery to be badged as a Nissan or Infiniti, which would most likely kill the looks.  It certainly would kill the heritage behind the styling of the Alpine A110.
The (potential) final possibility would be calling the car the AMX4.  Which would of course hark back to the times when Renault / Alpine was coupled with AMC.
However the car comes (if it does), I'm sure it will drive great…If it ends up being so.
More and more is being discovered about the Alpine A110 as time goes on.  Surely customers are getting some inside scoops on the car so we'll keep you all informed.