It's 2017 (when I wrote this) and we live in an age where there are four door coupes, sport activity vehicles and a body style to match anyone's mood. Something for everyone.
There are so many great examples of this world we live in like the BMW 6 Series Gran Coupe (any Gran Coupe from BMW for that matter), the Audi A7, BMW X6 and its Mercedes rivals, you know what I'm talking about.
Luxury car makes especially have all sorts of cars in their range for everyone.  And things continue to expand with the new Audi A5 Sportsback.
It's an Audi A5, with four doors which would make it essentially an Audi A6, but it has a "fastback" which makes it an A7.  But it's smaller, so its an A5 Sportsback.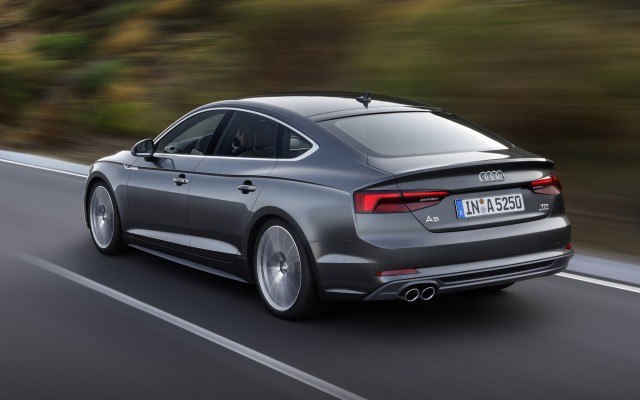 It's an Audi hatchback that's based on a coupe, which is based on a sedan.
While that seemingly doesn't make any sense, the car is definitely a lovely thing.  It's a baby Audi A7 which is a fantastic car.
So fundamentally it doesn't make sense, but it makes sense in the end.  I'm confused too, don't worry.
The car is also a response to BMW selling the 4 Series Gran Coupe, and it is perfect competition.
I think that the Audi A5 Sportsback is a lovely looking car and I'm sure it drives great as well.
Probably the most interesting part of the new car is that the Sportback is actually cheaper than the coupe.  Clearly Audi wants this car to make a statement here.
The Specs-Audi A5 Sportsback:
| | |
| --- | --- |
| Vehicle Type: | Midsize Sportback Sedan |
| Power Plant: | 2.0 L 4-cyl Turbo  |
| Gearbox: | 7-speed automatic |
| Power: | 252 HP |
| MPG | Up to 34 Highway/24 City |
| Torque: | 273 lb-ft. |
| Length: | 186.3 Inches |
| Width: | 72.6 Inches |
| Height: | 54.6 Inches |
| Wheelbase: | 111.2 Inches |
| Top Speed: | 130 MPH |
| Seating: | 5 Adults |
| 0-60 MPH (0-120 KPH): | 5.3 Seconds |
| Base Price: | $44,000 (est). |
Audi:
Audi has come a long way even since 2008.  Back then, they were more of a budget luxury auto make (if you could believe that) to Mercedes and BMW.
Thanks to (mostly) the Audi R8, the manufacture moved very successfully up the market to where they are now.
Audi now has an issue with a lot of people as they all look the same and look plain on top of that.  It's a bit disappointing.
My issue with Audi is that they all seem to look like Volkswagen's Jetta.  While I do agree looks are subjective, I'd much rather have a car that actually looks as beautiful as the $50,000 price tag suggests.
Granted, a lot of people like Audi for this very reason.  Which again I completely understand.  However there are many other very pretty options out there for that money.
However, I can't argue with sticking with a design that is sharp regardless and it sells. Above all, it sells.
On top of the Audi A5 Sportsback, Audi is also releasing the S5 Sportsback.  This car will have a 3.0 L V6 engine that is just as we see it elsewhere in the Audi lineup, and have seen for years.  It's a fantastic power plant.
Past that, the Audi A5 Sportback fills a void that is barely there.  It's just more of an expensive A4.
The Exterior-Audi A5 Sportsback:
Starting with the front of the car, you get the large Audi grille as usual, the two secondary air ducts are just beside it and there are pointy headlights.
It's a sharp assembly, and most certainly features the latest from Audi.
There isn't much more to say about the front end, as it is the same thing we've seen for a long time.  Sure, it sells and is sharp and you can't really argue with that.  But, I can't be the only one who thinks that car designers are way too comfortable where they are.
Muscles bulge through the hood and the car has a good focus on the front end, but it's not exciting to look at.  Sharp, but not exciting.
On the side of the car, I think we have the strongest point of the design.  It is absolutely beautiful.
Just like the Audi A7, the sloped roof line and strong lines are so lovely and I think we can all appreciate that.  The only draw back to all of that as I'm sure you can agree is the rear seat head room.  Things get a bit compromised there for the sake of the roof line.
And in very Audi fashion, there aren't many defining characteristics on the sides of the car.  This is perfectly fine since the entire car can fly under the radar fairly well, and it still manages to look very upscale and connected.  Sculpted, in one word.
Looking directly at the rear end of the car, you'll see something that does look very much like a baby A7.  Which is all fine and good.
Beyond the slightly widened hips, it just doesn't look special.  I know that it looks much cooler in the S5 variant, but the standard car just doesn't look like anything worth staring at.
The lines on the side of the car (though few) are very pretty and give some character to it, but the back is just like the A4.  It doesn't look upscale.
The S5 makes the car look much better with its added fascia and especially the quad-exhaust tips which make the car look wider.
With the two tips on the left side of the car, it just looks like a Jetta.  I know that there's people who enjoy that sort of thing, but I'm not that sort of person.
Overall, the exterior of the Audi A5 Sportsback is just as Audi as every other Audi to have ever Audi'ed.
I praise the lovely roof line and strong lines, but its just another car to come from Audi that looks the same as so many have before it.
But again, I'll close this exterior portion by saying that since the design has sold so well and has been so effective for Audi, there's no real business reason to change it.  It works, looks pretty good, and sells.  That's all the confirmation they really need and no upset journalist is going to change it.
The Interior-Audi A5 Sportsback:
In its coupe form, the Audi A5 is less spacious than the BMW 4 Series (which is actually quite large) and the Mercedes C-Class coupe.  Both of it's main rivals.
As pretty much expected, the A5 Sportsback fixes this issue.  Mostly.
While the A5 Sportsback is more practical than the coupe, it is less practical than the Audi A4.  Which also makes no sense.
However you'll find that life is otherwise very nice inside the Audi A5 Sportsback.  Overall the dimensions are much more comfortable over the A5 Sportsback that the new car replaces.  And of course that means that room inside is much improved over the tight coupe.
If you're on the tall side of things; maybe six feet plus, you'll find room in the back a bit tight as you might expect from a car like this.  Its main focus is to be a coupe, with the added doors of a sedan.  It's interesting.
As for the overall design of the interior, it is absolutely lovely.  Audi is very, very good at making some great interiors, even though I definitely have my issues with them.  For example, the A3 is just a joke.  No offense to anyone who has one.
Satellite navigation comes standard on the Audi A5 Sportsback which is nice of course, but its operated out of the big screen on the center of the console which is not as nice.  To look at, that is.
There are plenty of options to make the interior of the A5 Sportsback into a beautiful arrangement.
Obviously there are tons and tons of leather and alcantara/suede everywhere.  Trimmings are nice and you can get wood inserts if you like.
There is a large section of suede on the door panel which is nice, and it seems like they are on every trim.  At least from what I can see.
The overall interior look absolutely great, and the ergonomics are fantastic.  I can say that even without driving it.  Audi consistently gets that sort of thing perfectly.
And with more good news, Audi's latest gauge cluster display thing is available in the A5 Sportsback.  This system allows you to configure the display from a classic layout to one that includes the navigation screen and more information.
That might sound clunky and like too much, but it actually is the most brilliant system in the world.  Absolutely stellar.
The interior of Audi's are just great.  There are some things I'd change, but overall I can't complain.  Audi makes things very comfortable, intuitive, luxurious and modern.  A hard combination to get.
The Performance-Audi A5 Sportsback:
The standard Audi A5 Sportsback comes with a pretty strong little four cylinder engine.  It's a 2.0 L turbo which is largely standard issue in today's market for these kinds of cars.
It is a 252 horse power and 273 pound feet of torque unit that provides enough enthusiasm to go from zero to sixty in around 5.3 seconds.  Plenty quick.
The dual clutch transmission is also a fantastic pairing.  Obviously, shifting is very fast and seamless.
As with all Audi's, it drives fantastically and gives a very connected drive while staying comfortable and focused.
The Audi A5 Sportsback gives you practically everything you'd need besides the night vision you'd be able to get in the Audi Q7.  I'm sure you can live without it.
Sum It Up:
The Audi A5 Sportsback looks to be a great car, if it didn't have so many similar cars surrounding it in Audi's line up.
Audi knows how to make great cars consistently and the A5 Sportsback is a good testimate to that.
My only wish is that they could just make up a new design or something to step out of the box.  They are sharp cars, it's just getting old to me.  What do you think?
The Audi A5 Sportsback isn't really a car that begs to be noticed or really is noticeable as the newest car at all. For that reason its hard to really put it above just getting an Audi A4.  You're not really missing out on anything glamorous by getting the Sportsback.